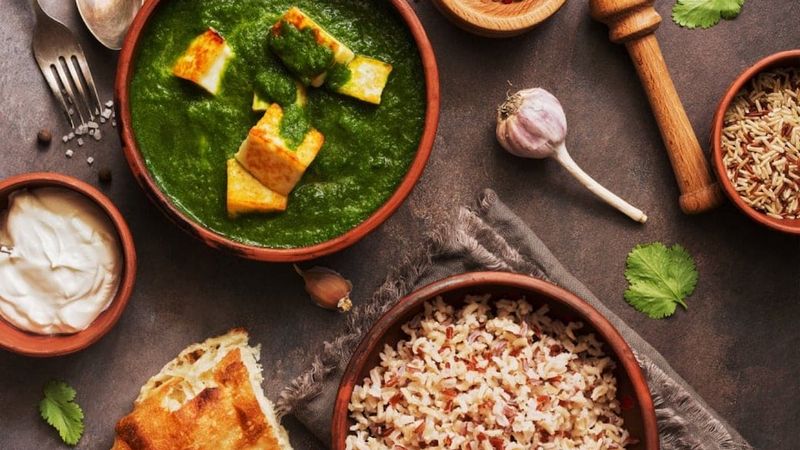 Nutrition
Medically Reviewed
---
Our Review Process
Our articles undergo extensive medical review by board-certified practitioners to confirm that all factual inferences with respect to medical conditions, symptoms, treatments, and protocols are legitimate, canonical, and adhere to current guidelines and the latest discoveries. Read more.
Our Editorial Team
Dr. Apoorva T, MHM.
MEDICAL ADVISOR
Controlling Diabetes with Indian Food
Indian food is famous in the world for its intense and tasty flavours. However, did you know that Indian food is mainly based on the ancient systems of Ayurveda that aims to keep your body healthy and balanced? From preventing diseases to managing them, Indian food has always been effective. Today, although the steep rise in lifestyle conditions such as diabetes and hypertension has increased among the young and old, Indian food holds the key to control diabetes effectively and sustain it. Wondering how to control diabetes with Indian food? Continue reading to learn more!
Indian food comprises staples such as rice, chapati or roti, which are carbohydrate-rich and can cause a spike in blood sugar levels. But, it is a misconception that Indian food is unhealthy or does not allow you to sustain a healthy lifestyle. Whether you have type 2 diabetes or gestational diabetes, a well-balanced Indian diet plan can help you bring your blood sugar to normal levels. Also know about sugar diet chart
Daily Dietary Requirements in Diabetes
A person with Diabetes must include lots of fibre-rich foods, proteins and simple carbohydrates in their diet. Refined and packaged foods cause an increase in glycemic index and must be avoided altogether. It is also essential that an individual with uncontrolled blood sugar levels consume foods that release energy slowly and eliminate toxins. Also know about Indian diabetes diet.
Though there is no one-size-fits-all when it comes to a daily diet plan. Here's what the recommended daily nutrition chart of a person with diabetes should look like-
| Food group   | Quantity                                       |
| --- | --- |
| Fat           | Limit to 25% to 30% of daily caloric intake.   |
| Carbohydrate | Not more than 55% of your daily caloric intake |
| Fibre         | 30-40 gm/day                                   |
| Protein       | 15% to 20% of daily caloric intake             |
Indian Diet For Diabetics
Carbohydrates are the food group that provides our body with energy to function. However, consuming an excess of carbs can increase the sugar levels in the blood, which is a characteristic of diabetes. Is Indian food good for diabetics?
For this reason, other food groups, especially proteins, are vital for diabetes control. According to experts, consuming proteins prevent muscle loss (wasting) in people with diabetes. This muscle wasting further contributes to a rise in blood sugar levels. Indian diet allows an immense scope of including proteins in your diet –in vegans, vegetarians and non-vegetarians.Which indian food to avoid in diabetes? Read more about gdm treatment.
However, It is essential to remember that consuming excessive proteins or eating a high-protein diet can contribute to a rise in your blood sugar levels. For this reason, 55% of your diet should include fibre-rich carbohydrates; 15% to 20% of this should be protein, and 15% to 20% should consist of fat.
Some protein-rich foods that diabetics can include in their diet are as follows:
Eggs
Milk
Yoghurt
Paneer
Lean chicken
Lentils (Dals)
Legumes
Chickpeas
Nuts and seeds
Soy and soy products like tofu
Fatty fish
Seafood
Cauliflower
Tomato
Gourds
Beans
Mushrooms
Get your healthy diet for diabetes.
How to control gestational diabetes with the Indian diet?
Gestational diabetes is a condition that occurs in women during pregnancy and is characterized by a rise in blood sugar levels. Indian food can help manage gestational diabetes and reduce risks to the mother and her child. Regardless of your diet type, the key to managing gestational diabetes with an Indian diet is eating a balanced diet that comprises a platter of healthy foods.
Here's how to control gestational diabetes with Indian diet:
Include lots of fresh fruits and vegetables
Moderate amounts of lean proteins
Moderate quantities of healthy fats and whole grains (cereals, pasta, rice, whole wheat and starchy vegetables)
Avoid foods that are sugar-rich, sweetened beverages, bakery foods and desserts
Women with gestational diabetes must consume small to moderate-sized meals three times a day and one or two snacks. Do not skip meals.
Quantity of food groups to consume:
Less than half the calories you consume during the day must come from carbohydrates. Some sources rich in carbs include bread, rice, wheat, potatoes, fruits, fruit juices, sweetened beverages and candy. Avoid simple carbohydrates such as potatoes, white rice and sweets as they cause a spike in blood sugar levels.
Legumes and starchy veggies
This food group is important to maintain healthy blood sugar levels. You can safely consume six or more servings of grains, beans and starchy vegetables. Some foods that you can include in your diet plan are whole grain products such as crackers, bread, cereals, beans, oats, wild or red rice and pasta.
Eating any amount of vegetables can rarely do you any harm. For gestational diabetes, you must consume at least three to five servings of vegetables a day. Some healthy options include leafy greens, carrots, peppers and brinjals. Try to consume vegetables as fresh as possible.
Consume two to four servings of fresh fruits every day. Some ways to add fruits to your diet include freshly peeled and chopped citrus fruits (grapefruits, oranges, sweet lime and tangerines) and fresh juices without added sugar. 
If you are a non-vegetarian, get at least two to three servings of proteins during the day. Fish and lean poultry meats are healthy and filling. Remove as much fat as possible from meats like veal, beef and pork if you wish to consume them.
Women with gestational diabetes must limit their consumption of fatty foods such as butter, oils, margarine and desserts. Replace your refined cooking oil with cold-pressed or healthy oils such as olive oil, canola oil or safflower oil.
Read more about how to prevent diabetes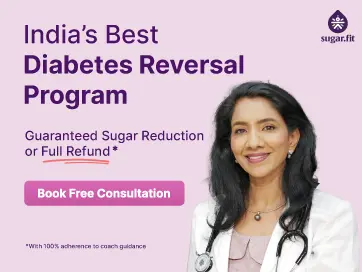 Best foods to control diabetes
What are the best Indian food for diabetics? Figuring out and coming up with the best foods to control diabetes would be the top priority of any person newly diagnosed or living with this condition. The main premise of this exercise would be to ensure that the foods do not end up spiking blood sugar levels. Additionally, it would also be important to not consume any foods that would trigger further complications that could arise as a result of diabetes such as – heart conditions, cholesterol, etc. How to control diabetes with indian food?
Here are some of the best foods that you can consume with diabetes:
1.  Leafy greens – These are some of the most nutritious food categories that are low in calories. Since they also have properties like being low in digestive carbs, these are foods that will not affect blood sugar levels significantly. Spinach, kale, methi (fenugreek), etc are great sources of vitamins and minerals. Since people with diabetes are often known to have lower levels of Vitamin C, these vegetables can be great to add to the Indian diet plan for type 2 diabetes.
2.  Avocados – Avocados are growing in popularity among the Indian population in today's times. Having less than 1 gram of sugar, very few carbs, and high fiber content, avocados will not elevate blood sugar levels drastically. They are also known to be associated with an improved diet quality overall and can lower body weight and BMI.
3.  Eggs – The consumption of eggs regularly can reduce the risk of heart disease as it can help to decrease inflammation, improve insulin sensitivity, and increase the HDL (good) cholesterol levels in the body, etc. Eggs can also reduce the risk of stroke
4.  Chia seeds – Chia seeds are wonderfully nutritious for people with diabetes. They are high in fiber and low in digestive carbs. In fact, the consumption of chia seeds is actually known to lower blood sugar levels as it slows down the rate at which food moves through the gut. It can also help you in healthy weight management. This can be added to the list of options for Indian breakfast for diabetes.
5.  Beans – Beans are affordable and nutritious and are considered very healthy. They are a type of legume rich in vitamin B, calcium, potassium, magnesium, fibers, etc. Since beans are low in glycemic index, they can help prevent the onset of diabetes and manage the condition.
6.  Nuts – The easiest snack present in almost all Indian households would be nuts. They contain fiber and are low in carbs. Research has also favored the consumption of nuts as they can reduce inflammation and lower blood sugar levels. These can also help people with diabetes improve their heart health.
7.  Broccoli – One of the most nutritious vegetables, half a cup of cooked broccoli will contain only 27 calories and 3 grams of digestible crabs along with vitamin c and magnesium. It can also help manage blood sugar levels
8.  Strawberries – If you are wondering what fruits you can add to your list of diabetic-friendly foods, consider strawberries as they are rich in antioxidants. They are also known to improve insulin sensitivity. Also read about is pomegranate good for diabetes.
9.  Garlic – With only 4 calories in one clove of garlic, you can find a good amount of magnesium, vitamin b6, vitamin c, selenium, and fiber. Garlic is known to help with improved blood sugar management and the regulation of cholesterol.
10.  Flaxseeds – These can be consumed as seeds or as a powder. They improve overall heart health as they are rich in omega-3 fats, and fiber, and are loaded with other plant compounds. The compound – lignans, can also help reduce the risk of heart disease and improve blood sugar management. Read more to know about what level of blood sugar is dangerous?
Indian diet chart for diabetes
If you are all set to restore your blood sugar level with simple, tasty Indian food, we've carved out a week-long diet chart for diabetes to help keep your blood sugar levels in check.

Indian Breakfast for Diabetes
This is considered the most important meal of the day and skipping it is not an option, especially for diabetics. Here are Indian breakfast options to include in your diet plan:
Sprouts – Considered to be one of the best options in Indian breakfast for diabetes, sprouts are low in carbs and high in proteins, fiber, folate, vitamin K, magnesium, phosphorus, and beta-carotene. They can help reduce blood glucose levels and improve digestive health. They can also increase good cholesterol levels and reduce bad cholesterol.
Red poha – Red poha, especially with lots of vegetables can be high in multiple vitamins and minerals. Fiber, vitamin B, iron, calcium, zinc, manganese, magnesium, antioxidants, etc can help keep you full for a long time. It can also aid in digestion and can help fight anemia.
Ragi wheat dosa – Who said people with diabetes cannot eat dosa? When made with ingredients high in fiber, proteins, iron, calcium, carbs, and essential fats, dosa can be one of the best and tastiest foods to consume as breakfast. It can also strengthen the bones and the immune system while assisting with weight loss
Smoothie or fruit bowl – A smoothie with Greek yogurt, chia seeds, nuts, fruits, etc can be nutrition-dense and can keep you full for a long time. The natural sugars in fruits can be consumed in the morning and can be helpful even before your morning workouts
Bread sandwich – A sandwich made out of whole wheat bread loaded with vegetables like tomatoes, onions, lettuce, cucumbers, etc can be great as an Indian breakfast for diabetes type 2. One sandwich in the morning can help you receive a good amount of fiber and proteins along with vitamins and minerals from the vegetables.
Some other breakfast options:
Daliya
Vegetable parathas such as peas paratha, mix-veg paratha, gobi paratha, cabbage paratha or paneer capsicum paratha
Vegetable upma
Vegetable oats
Oats with freshly cut fruits and honey
Vegetable or masala omelette
Boiled eggs with vegetable and whole-wheat bread sandwich
Minced chicken paratha
Idli
Dosa
Chilla
Poha
Chivda
Drinking a glass of unsweetened milk 1-2 times a day is beneficial for people with diabetes.
Indian Lunch for Diabetes
Eating lunch on time every day is vital to maintain normal blood sugar levels. Some foods to include in your lunch are:
Whole wheat Rotis (1-2)
Bajra, jowar or ragi Rotis
A big bowl of seasonal vegetable
Salad- vegetables or sprouts curd-based koshimbir (raitas)
One portion of meat (lean poultry meats or fish)
Dal 
A glass of buttermilk to end the meal
Indian Dinner for Diabetes
Individuals with diabetes must eat their dinner 2 to 3 hours prior to their usual bedtime. Here's what your dinner plan should look like:
1 bowl of leafy green (saag, spinach or methi), chana, soya chunks, fish, chicken curry, vegetable stir fry or gravy.
2-3 Rotis, bhakri or paratha of your choice (preferably whole grain or multigrain)
Fresh vegetable or sprout salad
Avoid high-carb and starchy foods in your dinner. Also know about best fruit for diabetes.
Indian Snacks For Diabetics
Whether you are hungry during the day or in the evening, you must eat a healthy snack. Along with diabetes, we often see comorbidity of hypertension and high blood pressure in many people. This is why people with diabetes not only need to follow a diabetic-friendly diet but also need to ensure that they are eating Indian snacks to control blood pressure as well so that their heart health is not compromised. High blood pressure can be highly dangerous as it can lead to several other complications in the body as well. That, along with diabetes, can often be fatal. Know about is honey good for diabetes?.
Some snacks that can be included in the Indian diet plan for high blood pressure would be:
Bananas – One banana in a day can be an excellent source of potassium and can provide carbs and fiber. If you have diabetes, make sure to consume a less-ripe banana as it would have lower amounts of carbs in them
Fruit salad – Using a combination of different fruits like banana, apple, half a pomegranate, pears, guava, orange, etc you can cut and mix the fruits in a bowl and have them fresh. It is an ideal snack for people with high blood pressure
Chicken vegetable soup – This soup is healthy and is rich in proteins, vitamins, and minerals. It is also rich in potassium. Use minimal salt in the recipe
Roasted chivda – One of the tastiest dishes, chiwda (rice flakes) are rich in iron and provide a good amount of carbs to the body. They can also help increase protein levels in the body.
Omelet with veggies – Use one egg and chop onions, tomatoes, cabbage, etc. Add these vegetables to your omelet to increase the nutritional content of the food. Discard the egg yolk if you have high cholesterol levels. Also know about is pineapple good for diabetes.
Some other snack options:
A whole fruit (pear, apples, orange, sweet lime, papaya, pineapple or berries)
Roasted or boiled chana
Khakhra
Buttermilk
A whole wheat sandwich without butter
Bhelpuri with cucumber, tomato, peas, onions and coriander
Bottomline
Contrary to popular belief, the Indian diet does comprise of many healthy and nutritious superfoods that are effective in lowering your blood pressure and blood sugar levels. However, it is important to understand that every body is different and no one plan can fit all. So always make sure you consult your doctor and nutritionist before starting any new diet plan. Also read about the tips to control diabetes.
References
https://emoha.com/indian-diet-chart-diabetic-patients
https://www.healthline.com/nutrition/16-best-foods-for-diabetics#best-foods
https://wellnessmunch.com/15-indian-snacks-recipes-for-hypertension-high-bp/
Disclaimer
This website's content is provided only for educational reasons and is not meant to be a replacement for professional medical advice. Due to individual differences, the reader should contact their physician to decide whether the material is applicable to their case.