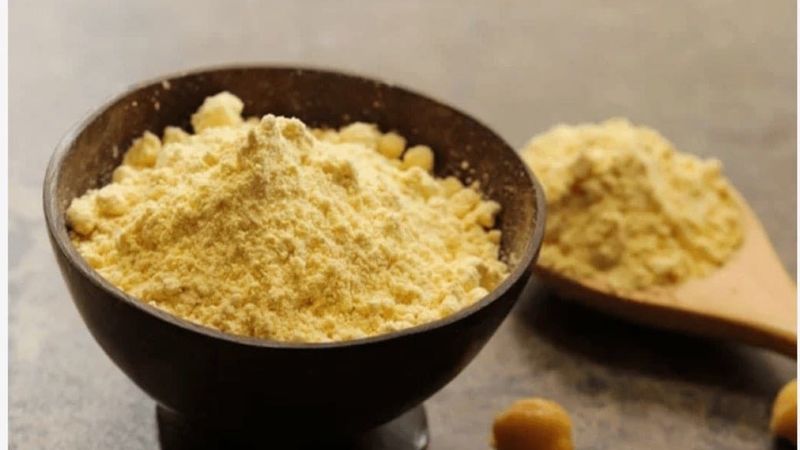 Nutrition
Medically Reviewed
---
Our Review Process
Our articles undergo extensive medical review by board-certified practitioners to confirm that all factual inferences with respect to medical conditions, symptoms, treatments, and protocols are legitimate, canonical, and adhere to current guidelines and the latest discoveries. Read more.
Our Editorial Team
Dr. Apoorva T, MHM.
MEDICAL ADVISOR
Besan for Diabetes - Benefits and Risk
Besan is made from chickpeas by grounding them to form flour. It is often used in every kitchen, and its recipes are liked by several people worldwide. Is Besan good for diabetes? 
People with diabetes are recommended to eat food with a low glycemic index. The GI of chickpea is just 6, whereas flour made from chickpea has a GI of 10, making it safer for consumption by people with diabetes. 
Snacks made with besan have a GI of 28-35, which falls under the low category. Thus, we can say that besan is good for diabetes. 
Let us see the nutrients it possesses that make besan good for diabetes. Also know how to get freedom from diabetes?
Nutritional Profile Besan
| Nutrients   | In mg per 30 g |
| --- | --- |
| Folic acid   | 44.25           |
| Vitamin B6   | 0.39           |
| Fibre       | 4.59           |
| Phosphorus   | 99.3           |
| Magnesium   | 39.0           |
| Vitamin B1   | 0.14           |
| Iron         | 1.59           |
| Vitamin B3   | 0.72           |
| Zinc         | 0.51           |
| Potassium   | 216.0           |
| Vitamin B2   | 0.05           |
| Calcium     | 16.8           |
| Sodium       | 21.96           |
| Calories     | 111             |
| Proteins     | 6               |
| Carbs       | 16.32           |
| Fats         | 1.68           |
Benefits of Besan
1. Boosts metabolism
Vitamin B, pyridoxine, and folic acid present in besan help in various metabolic processes. They convert carbohydrates, fats, and proteins into energy. Also know about diabetes diet chart indian.
2. More proteins
There are 20 grams of protein in 100 g of besan, making it the best source of protein. Also know about Indian diabetes diet.
3. Healthy fats
About 70% of fats present in besan are healthy unsaturated fats that help reduce the body's cholesterol levels. Approximately, 5.6 g of good fat is present in 100 g of besan. Also know about benefits of curd with sugar.
4. Helps to fight constipation
Besan has insoluble fibres, which aid in regular bowel movements. Thus, it helps in preventing and reducing constipation. 
5. Formation of blood
Besan has a good amount of folate (44.25 mg in 30 g) and iron (1.59 mg in 30 g). Folate boosts the multiplication of WBCs and RBCs in the bone marrow, whereas iron helps in forming haemoglobin, which is an important component of the red blood cells.
6. Helps in regulating brain function
Thiamine and folate are nutrients that help in the proper brain functioning. Besan is a good source of folate and thiamine. 
7. Strong bones
Magnesium, phosphorus, and calcium keep the bones strong and healthy. Besan is a good source of these nutrients.
Benefits of Besan for Diabetes
Besan for diabetes can be an excellent ingredient because of its numerous health benefits. Some top benefits of besan for diabetes include:
Energy Metabolism
Besan is rich in folic acid, B-vitamin Thiamine (B1), pyridoxine, and B-vitamin Riboflavin (B2). All these are actively involved in multiple metabolic reactions in the body. Their top function involves converting micronutrients, like fats, protein, and carbohydrates, into energy.   
Rich Source of Protein
We all know the impressive importance of having a protein-rich diet, especially when diagnosed with diabetes. Having a protein-rich diet can help you feel fuller for longer period and also help you in weight loss, eventually helping you control your blood glucose levels. If you are a vegetarian, besan can be the best way to include proteins in your everyday diet. 100 grams of besan has approximately 20 grams of protein compared to 12 grams of protein in 100 grams of wheat flour.
Improves Insulin Response
Besan is rich in complex carbohydrates, high in fibre, and a good source of magnesium. Even the GI of besan is low, making it an ideal cooking ingredient for people with diabetes. The nutritional profile of besan helps improve insulin response by lowering insulin resistance. People with low magnesium levels can have difficulty with the pancreas secreting enough insulin to control blood sugar levels. Since besan is rich in magnesium, this problem can be solved with regular besan consumption.
Maintain Healthy Bones
Besan is a highly mineral-rich ingredient. It is also rich in folic acid, essential for the rapid growth of white blood cells and red blood cells in the bone marrow. If you have besan items in your daily diet, you can get enough magnesium and phosphorus to help you maintain healthy bones.  
Additionally, besan can be an excellent substitute for regular whole wheat flour. Since it is gluten-free, people on a gluten-free diet can make multiple delicious recipes and include them in their regular diet. To enjoy the maximum health benefits of besan, try to avoid consuming fried food made using besan, and have every food item in a moderate amount.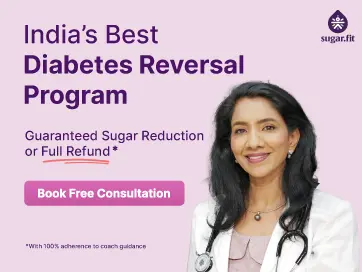 Glycemic Index of Besan
The Glycemic index is the rate at which consumed food increases the body's sugar level. The glycemic index of besan is just 6, whereas the besan flour made from it has a GI of 10. Food made with besan has a GI of about 28-30, which makes it good for consumption for people with diabetes. 
Since the GI of besan is low, the carbohydrates will be absorbed slowly by the blood, which will prevent increase of blood sugar levels to alarming heights in persons with diabetes. Thus, we can say that GI is a crucial factor to be considered in any food when deciding whether it is good for diabetes. Hence, we can conclude that besan flour is good for diabetes.
What are the Risks of Over Consumption of Besan?
The best part about besan is it doesn't invite any severe health risks from overconsumption. But if you eat more food items made using besan, you may experience some digestion issues. Moreover, fried besan food items will only increase your calories. Although the GI of besan is only 44, and it assists in weight loss, excess of anything is not recommended. Know about Indian breakfast for diabetes .
How Much Besan Should a Diabetic Consume?
Besan for diabetes can be good if taken in moderation. If you have diabetes, you can consider replacing regular wheat flour with besan or chickpea flour. If you plan to include besan in your sit in the form of roti, ensure you don't eat more than 3 to 4 besan rotis a day. If you want to add besan chilla to your diet, avoid eating more than 2 besan chillas a day. Also know more about diabetes diet chart.
Some Sample Besan Recipes
Besan can be considered a versatile cooking ingredient that can be used to make multiple delicious yet healthy recipes. If you have diabetes, you can consider making the following sample recipes:
Baked Besan Chakli
An excellent tea-time snack, baked besan chakli can be made using the following ingredients:
1 cup besan
½ cup wheat flour
Salt to taste
Water (as much needed)
2 teaspoon curd
2 teaspoon sesame seeds
2 teaspoon oil
½ teaspoon chili powder
¼ teaspoon turmeric powder
¼ teaspoon asafoetida
Cooking Method
‍Once you have gathered all the ingredients, make a dough by mixing them together in a bowl. You can use some water to knead the dough perfectly. Now put the dough in a chakli-press instrument and make swirls using parchment paper. Place the paper in your oven and bake it at 180 °C for approximately 30 minutes. Diabetes patients should not consume more than 2 to 3 besan chaklis a day.
Besan Chilla
Besan chilla is a diabetes-friendly and healthy breakfast option that deserves a place in your diabetes-friendly diet. It is easy to make and requires a few minutes of your time. To get started, you will need the following ingredients:
1 cup besan
1 cup water
½ cup finely chopped onions
1 teaspoon red chili powder
1 teaspoon ajwain (carom seeds)
1 finely chopped green chili
½ cup methi leaves
½ teaspoon salt
4 teaspoon oil
Cooking Method
‍Combine the dry ingredients with water to make a moderately thick-consistency batter, and let it rest for 20 minutes. Now heat some oil in a pan and place the batter in a circular shape, evenly spreading it out. Cook the batter until the edges turn crispy brown from one side, then flip it to cook from the other side. Once it gets cooked evenly from both sides, you can take it off the pan and serve it hot.  
Besan Dhokla
If you want variety in your diabetes-friendly diet plan, besan dhokla can be the best addition. You can make some delicious besan dhoklas at home using the following ingredients:
1 ½ cup besan
½ teaspoon ginger paste
¼ teaspoon turmeric
1 cup water
3 tablespoon suji
1 or 2 finely chopped green chili
½ teaspoon salt
1 tablespoon oil
1 teaspoon sugar
½ teaspoon ENO
A few curry leaves
Chopped coriander
1 tablespoon lemon juice
1 teaspoon sesame seeds
½ teaspoon mustard seeds and cumin seeds
Cooking Method
‍Take a bowl and mix besan, suji, chopped chilies, ginger paste, lime juice, asafoetida, seasonings, and oil. Once an even consistency is achieved and a batter is formed, spread it evenly in a steaming tray and let it steam in the appropriate vessel for at least 20 minutes. In the meantime, you can take a saucepan to fry the cumin and mustard seeds with curry leaves. Now add water, salt, sugar, and lemon juice and bring the mixture to a boil. Once the dhoklas are perfectly steamed and cooked, pour this liquid mixture over the dhoklas and garnish instantly with chopped coriander leaves before serving hot.  
These are just 3 delicious yet healthy besan recipes you can try, even if you are diagnosed with diabetes and are on a strict diet. You can look for more besan recipes or add variations to the 3 recipes to always have enough variety in your diet chart.
Also read about sugar free, no added sugar, and unsweetened
Bottomline
Thus, the above information reveals that besan is good for persons with diabetes. Besan glycemic index is 6. Moreover, it consists of nutrients like folic acid, vitamin B6, fibre, phosphorus, magnesium, vitamin B1, iron, vitamin B3, zinc, potassium, vitamin B2, calcium, sodium, calories, proteins, carbs, healthy fats. All these nutrients in besan prove it to be healthy for diabetes. It has various benefits against diabetes. It can be consumed in various forms. Thus, if you think about having snacks next time, opt for some nice mouth-watering besan recipes.
FAQs
Is besan good for diabetes?
Yes, Besan is good for Diabetes as its glycemic index is low, making it the best home remedy to manage diabetes.
Does besan increase blood sugar?
No, besan does not increase the blood sugar level. Instead, it has less GI, which makes it suitable for consumption for people with diabetes. 
Which flour is best for diabetes?
Besan flour is best for diabetes. It is free of gluten and has low GI compared to wheat flour and white flour. Moreover, it is rich in fibres, making it an excellent food for diabetes.
How Much and How Frequently Should a Diabetic Consume Besan?
Besan for diabetes can be a helpful ingredient owing to its low glycemic index. Replacing whole wheat flour with besan can help overall blood sugar levels. Besan can be eaten daily in the form of rotis, pancakes (chilla), sprinkles over vegetables, etc. Eating besan sweets can be limited or eliminated from the diet.
What are the risks of overconsumption of Besan?
While besan can be helpful, the amount of fiber present in it can cause certain issues regarding digestion like constipation. The antinutrients in besan can also reduce the absorption of other nutrients in the body. Abdominal pain and flatulence can also be observed with the consumption of this ingredient.
What is the Nutritional Value of Besan Per 100g?
100g of besan or chickpea flour contains the following nutritional value: Energy- 387 kcal, Iron- 4.86 mg, Vitamin K -9.1 µg, Fat- 6.6 g, Calcium - 45 g, Protein – 22.4 g, Fibre – 10.8 g, Magnesium – 166 mg, and carbohydrates – 57.8 g. The GI of besan is 44, which makes it helpful in controlling blood pressure and aiding rapid weight loss.
How Many Calories Are There in Besan Chilla?
There are approximately 162 calories in a piece of besan chilla. If you like evaluating your meal options based on their nutritional profile, then a piece of besan chilla has around 4.84 g of fat, 7.86 g of protein, and 21.6 g of carbohydrate. The fibre content is about 4.7 g, potassium at 372 mg, and sodium at 154 mg.
How Many Calories Are There in Besan Roti?
One besan roti can have approximately 151 calories. Out of these 151 calories, 27 calories are attributed to protein, carbohydrates make up 115 calories, while the remaining 13 calories signify fat. If your daily recommended calorie intake is 2,000 calories, one besan roti will only make up 8% of the total calorie budget.
Is Besan Chilla Good for Weight Loss?
Yes, besan chilla is very good for weight loss. Since besan has a low GI, food items made using besan help burn calories faster. It is one reason you can find besan chilla in most healthy Indian diet plans. Whether you are trying to control diabetes or your primary aim is weight loss, besan chilla can be an excellent addition to your daily diet.
References
https://www.tarladalal.com/article-health-benefits-of-besan--214
Disclaimer
This website's content is provided only for educational reasons and is not meant to be a replacement for professional medical advice. Due to individual differences, the reader should contact their physician to decide whether the material is applicable to their case.