Nutrition
Medically Reviewed
---
Our Review Process
Our articles undergo extensive medical review by board-certified practitioners to confirm that all factual inferences with respect to medical conditions, symptoms, treatments, and protocols are legitimate, canonical, and adhere to current guidelines and the latest discoveries. Read more.
Our Editorial Team
Dr. Apoorva T, MHM.
MEDICAL ADVISOR
Healthy and Delicious Vegetable Salad for Diabetes
People diagnosed with diabetes have to be careful with their food intake. They cannot consume any item that instantly results in blood sugar spikes. If you've been trying to maintain your blood sugar levels due to diabetes, we'd suggest incorporating one healthy bowl of vegetable salad for diabetes in your everyday meal. It will provide you with enough nutritional value while ensuring your blood sugar levels remain normal. 
Since vegetable salad calories are primarily on the lower side, people can consume them without worrying about the calorie count. To help you stay on track, we've shared below some of the healthiest, protein-rich salad recipes that can be made to keep your diabetes in check.  Read more to know about diet for diabetes.
Benefits of Eating Vegetable Salad for Diabetes
If you've been contemplating having a big bowl of vegetable salad every day, we'd say give it a go. Indian vegetable salad for diabetes is always full of nutritional value and offers various health benefits. It can have the following benefits:
Abundant Consumption of Fiber
We all know natural fiber has various benefits. From reducing bad cholesterol to normalizing bowel movements, weight loss to reduced risk of cancer- the range of benefits of consuming fiber can be many. All you need is a bowl of fiber-rich ingredients to enjoy these benefits.
Aids in Consumption of Healthy Fat
Fat is essential for the human body, but only healthy fat. If you're consuming too much junk food or items loaded with saturated or unhealthy fat, you are guaranteed to develop diseases like obesity over time. But with healthy fats, your body will function in a better way. Also know about Indian diabetes diet.
Effortless Maintenance of Required Nutrition
Your body requires a decent, minimum amount of protein, fat, carbohydrates, calcium, and other nutrients to function in the best possible way. Regular meals often lack the right combination of nutrients, but a healthy salad bowl fills this gap.  
If you frequently consume vegetable salad for diabetes, you can notice increased energy levels and better overall health.   
Vegetable Salad Recipes
To ensure people frequently get their daily dose of nutrients without compromising on the flavors, we've compiled five healthiest vegetable salad for diabetes recipes that will never leave you disappointed. So let's quickly check out the recipes shared below:
1. Kidney Bean Salad
An easy-to-make salad recipe, it has everything one would want from a healthy meal. Depending on your requirement, you can have it as your brunch, lunch, or dinner. To make this recipe, you will only need some boiled kidney beans, sliced onions, tomato cubes, and chopped spring onions. These ingredients are for the main salad. To make the tasty salad dressing, you will need olive oil, lemon juice, salt, and finely chopped or minced garlic.
Once you are ready with the ingredients, mix all the main ingredients in a bowl, and prepare the seasoning in another vessel. When you're ready to have the salad, just toss the ingredients in the salad dressing for a few seconds for better coating. It tastes delicious and is super healthy.

Nutritional Value Per Serving
Calories 176
Protein 4.5 g
Fat 11.6 g
Fiber 1.4 g
Sodium 2.9 mg
2. Tabbouleh Middle-Eastern Salad
It is a low-cholesterol, diabetes-friendly, and healthy vegetarian salad recipe. To make this delicious recipe, you will need tabbouleh (broken wheat), chopped cucumber, chopped spring onion, chopped mint leaves, chopped parsley, and chopped tomatoes. You will need some olive oil, lemon juice, minced garlic, and sea salt for the dressing. Mix all these salad dressing ingredients in a small vessel and keep it ready to drizzle on the main salad before serving.
Coming to the main salad preparation, you will have to boil tabbouleh in boiling water for at least 7 minutes. Once it is boiled and appropriately cooked, place it in a bowl, followed by the remaining ingredients and the salad dressing. Mix all these things well till they are well combined. For best taste, it should be consumed immediately after preparation.

Nutritional Value Per Serving
Calories 136
Protein 2 g
Fiber 2.3 g
Fat 8 g
Sodium 10.3 mg
Carbohydrates 14.5 g
3. Spinach & Apple Salad
An iron-rich salad recipe with the right amount of crunch and sweetness, the spinach & apple salad is all you need on a busy day. It is made using a unique salad dressing that is lip-smacking and healthy at the same time. To prepare this recipe, you will only need apple cubes and baby spinach as the main ingredients. The main flavor enhancer in this entire recipe is the salad dressing made using honey, whisked fat-free yogurt, chopped celery, lemon juice, pepper, chopped basil, salt, and lemon rind. 
Once the dressing is ready, you can mix it thoroughly with the baby spinach and apple cubes in a medium-sized bowl. You can also sprinkle some roasted sunflower seeds before serving. This entire recipe requires minimal ingredients and is still one of the most nutritious salads you can ever have.

Nutritional Value Per Serving
Calorie 83
Protein 2.5 g
Iron 1.5 mg
Fat 2.2 g
Carbohydrates 13.9 g
Calcium 96 mg
4. Cabbage, Carrot, & Lettuce Salad
Packed with several vitamins and antioxidants, this is the easiest vegetarian salad recipe one can make to incorporate into a diabetes-friendly diet. You don't need too many salad ingredients to make this recipe, and almost all the ingredients are generally present in every household. This is a very straightforward salad recipe made using shredded cabbage, black salt, sea salt, grated carrot, orange segments, chopped coriander, and shredded lettuce. To make this delicious salad, you must combine all these ingredients and serve them immediately.
 Nutritional Value Per Serving

Calories 29
Protein. 1 g
Sodium. 19.2 mg
Carbohydrates. 6 g
Fat. 0.1 g
Fiber. 1.9 g
5. Beans Sprouts and Capsicum Salad
A Thai-inspired vegetable salad, the beans sprouts, and capsicum salad is a concoction of everything healthy. The main tastemaker of this entire recipe is the salad dressing. Once you place sliced capsicum and bean sprouts in a mixing bowl, prepare the salad dressing in a different pan. To make the dressing, you will need minced garlic, oil, coarsely crushed roasted peanuts, soy sauce, vinegar, sugar, and chilli powder. You need to sauté the garlic in a pan for a few seconds and let it cool slightly.
Later add soy sauce, chilli, sugar, vinegar, crushed peanuts, and chilli powder to the cooled garlic and mix well to ready the salad dressing. Once done, add all the things to the bowl containing capsicum and beans sprouts, and toss well until everything is mixed and coated with the dressing. You can also sprinkle some chopped coriander and spring onions before serving the final salad. 

Nutritional Value Per Serving
Calories 59
Protein 2.3 g
Sodium 88.8 mg
Fiber 1.3 g
Fat 4.3 g
Carbohydrates 3.8 g 
Bottomline
Salads have always been an absolute favorite of nutritionists and dieticians, as they provide ample nutrients in a single meal. Since most ingredients in a vegetarian salad include fresh fruits and vegetables, people with diabetes don't have to worry about sudden blood sugar spikes after consumption. Every salad bowl contains healthy fats, protein, carbs, fiber, etc., ensuring the person gets its required dose of micronutrients. If you've been diagnosed with any diabetes type, and are trying to maintain a healthy lifestyle, incorporating these recipes into your diet is the best way out. So make sure you start having these for visible results.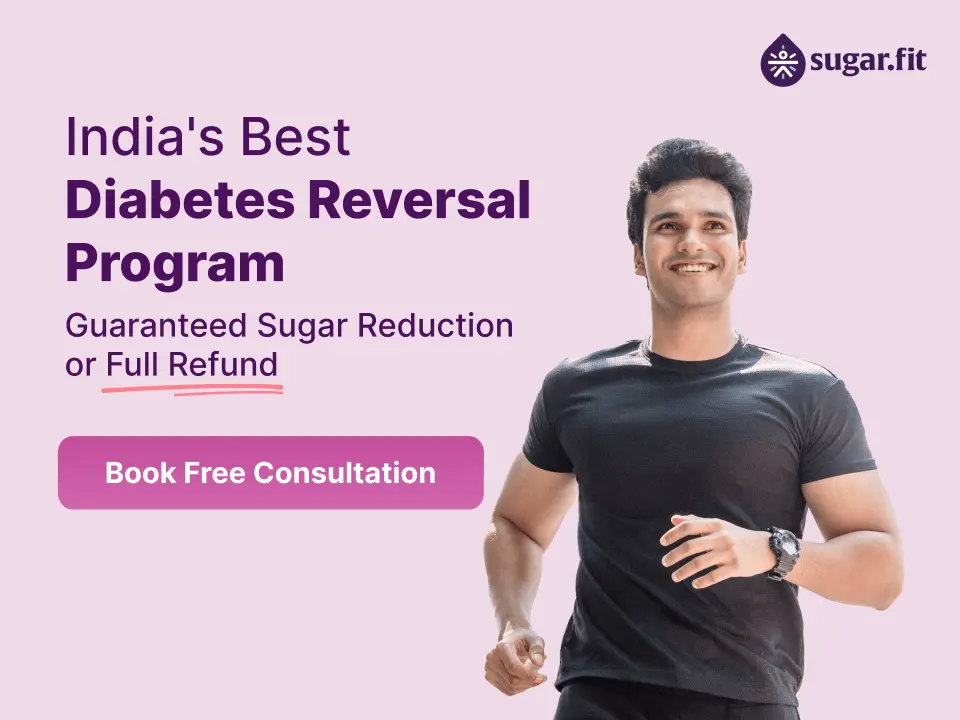 FAQs
Which Vegetables are Good for Diabetes?
People with diabetes should stick to vegetables with a low glycemic index. Cauliflower, broccoli, eggplant, asparagus, green beans, lettuce, peppers, and artichoke are some good vegetables for diabetes. 
What Vegetable Causes High Blood Sugar?
As a person with diabetes, you should remember that not all vegetables are healthy for your blood sugar levels. Potatoes, corn, peas, and butternut squash are a few such vegetables that cause blood sugar spikes.  
Disclaimer
This website's content is provided only for educational reasons and is not meant to be a replacement for professional medical advice. Due to individual differences, the reader should contact their physician to decide whether the material is applicable to their case.