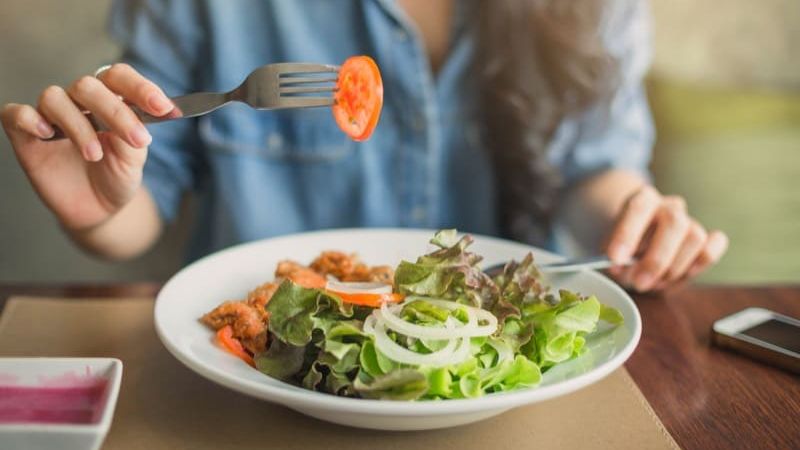 Nutrition
Medically Reviewed
---
Our Review Process
Our articles undergo extensive medical review by board-certified practitioners to confirm that all factual inferences with respect to medical conditions, symptoms, treatments, and protocols are legitimate, canonical, and adhere to current guidelines and the latest discoveries. Read more.
Our Editorial Team
Dr. Apoorva T, MHM.
MEDICAL ADVISOR
Diabetes-Friendly Salad Recipes
People with diabetes are always asked to maintain a healthy lifestyle to control their blood sugar level spikes. If they overeat sugary or unhealthy food, it starts reflecting on their glucose levels. It is why doctors and nutritionists recommend incorporating healthy salads into their diet. This article will leave you amazed if you think salad for diabetes is bland and tasteless. So ensure you read till the end.  
Benefits of Eating Salad for Diabetes
Salads have various benefits, especially for people trying to control their diabetes. Some of the benefits are listed below.
Helps You Include Enough Vegetables & Fruits in the Diet
Some people find it challenging to include enough fresh fruits and green vegetables in their regular diet. Incorporating a salad bowl into their everyday meal will help them overcome this problem.
Maintain Healthy Fiber Intake
Eating enough fiber allows you to feel fuller for longer hours and witness reduced cravings. People can also use it to lose weight and maintain a healthy body. A fiber-rich salad bowl helps by preventing constipation and lowering cholesterol.      
Reduce Calorie Consumption
The best part of salads for diabetes is they pack a robust nutritional profile yet are low on calories. A bowl full of healthy ingredients can be used to replace your regular meal. 
Access to Good Fats
Fat is essential for the body, but only healthy fat. If you eat junk food, you're taking in a thigh quantity of saturated fat or unhealthy food that can make things worse. A bowl of salad can fix things for you.
Diabetes-Friendly Salad Recipes
Most diabetes salad recipes on the internet appear tasteless and boring, but it isn't the case here. After talking to nutritionists, we've created a list of the top ten most delicious and healthy recipes that are very easy to make and will make you feel full and satisfied. So let's quickly head to the recipes shared below
Chopped Chicken Salad
Is chicken salad good for diabetics? A protein-packed salad, this bowl contains everything you would expect from a healthy and wholesome meal. To make this salad, you will need boneless and skinless chicken thighs. Make a seasoning of pepper, salt, onion powder, and garlic powder, and spread it all over the chicken thighs. Spray some pure olive oil on a baking tray and bake it for approximately 30 minutes. Also know about Indian diabetes diet.
While the chicken cools down after baking, take a bowl and start adding kale, crumbled feta, sprouts, carrot, cucumber, tomato, onion, pomegranate seeds, stalk of fennel, cabbage, and mix well. Now in a mason jar, combine some lemon juice, minced fennel, extra virgin olive oil, salt, pepper, minced garlic cloves, and shake generously to mix all the ingredients. Now chop the chicken into small pieces, add the salad, and drizzle the seasoning prepared in the mason jar. 

Nutritional Amount Per Serving
Calories 329
Fat 16.6 g
Carbohydrates 14.7 g
Sugar 5.2 g
Fiber 3.8 g
Protein 30.6 g
Potassium 675.8 mg
Calcium 117 mg
Iron 8 mg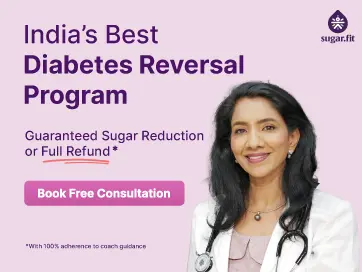 Keto Cobb Salad
This is one of the easiest salads for diabetes you can ever make. All you need is some cherry tomatoes, cooked bacon, shredded chicken, avocado, crumbled feta cheese, and a few vegetables of your choices. You just have to mix all these stated ingredients in a bowl, sprinkle over salt and pepper, and you're done. It also has a rich nutritional profile, as shared below:

Nutritional Amount Per Serving
Calories 412
Fat 23.6 g
Potassium 543 mg
Carbohydrates 11.9g
Sugar 2.9 g
Protein 38.4 g
Fiber 6 g
Calcium 216 mg
Iron 4.4 mg
Cauliflower Potato Salad
Is potato salad good for diabetics? This recipe is for everyone who wants a break from the regular leafy vegetable salad. To make potato salad for diabetics, you will need steamed cauliflower florets, chopped onions, boiled and chopped eggs, chopped bell peppers, and celery. Start smashing the steamed cauliflower florets using a fork, and add all the remaining ingredients. Now drizzle over a salad dressing for diabetes made using yellow mustard, homemade mayo, apple cider vinegar, minced garlic, salt, and pepper. Your healthy bowl of salad is now ready. It contains the following nutritional profile:

Nutritional Amount Per Serving
Calories 117 kcal
Fat 9 g
Potassium 342 mg
Carbohydrates 6 g
Sugar 2 g
Fiber 2 g
Protein 4 g
Cholesterol 75 mg
Sodium 317 mg
Oriental Cabbage Asian Salad 
Want a salad recipe that is tangy and healthy? If you answered yes, you would love this recipe. This recipe is quite surprisingly easy to make and requires a few ingredients. You will need a coleslaw mix, green onions, bell pepper, and sunflower seeds for the salad. You will have to mix all these ingredients in a bowl and drizzle a salad dressing made of white wine vinegar, olive oil, sea salt, toasted sesame oil, coconut aminos, and garlic powder. To prepare the dressing, you can all add and shake the ingredients in a mason jar before placing it in the main salad. You can check its nutritional profile shared below:

Nutritional Amount Per Serving
Calories 120
Protein 2 g
Carbohydrates 8 g
Fat 9 g
Fiber 2 g
Sugar 3 g
Mediterranean Broccoli Salad
This super healthy and protein-packed salad is all you need to replace your regular lunch or dinner. It doesn't require too many hard-to-find ingredients and is delicious to taste. To make this salad, you will require finely cut broccoli, artichoke hearts dipped in olive oil, onion, roasted sunflower seeds, halved kalamata olives, and sun-dried tomatoes. Once you're ready with these ingredients, add them all in a bowl, and drizzle over a generous amount of salad dressing made of fat-free yogurt, lemon zest, minced garlic, sea salt, dried ground basil, pepper, dried ground thyme, dried ground oregano, and a little monk fruit. You can replace the monk fruit with any granulated sugar. The nutritional profile of this salad is shared below:

Nutritional Amount Per Serving
Calories 182
Fat 12.4 g
Protein 5.9 g
Sugar 5.9 g
Fiber 3.6 g
Cholesterol 2.5 mg
Sodium 365 mg
All the recipes shared above are easy to make and require minimal ingredients. They all feature a robust nutritional profile and can act as a meal replacement.
Tuna Nicoise Salad
Want a flavorful and healthy salad bowl that can be made with readily available ingredients? If yes, the tuna nicoise salad is all you need. It is effortless to make and takes 15 minutes of cooking time. To get started, you'll need some tuna steak, whole egg, green beans, black olives, pepper, parsley, broccoli, balsamic vinegar, baby spinach, cucumber, radish, and Dijon mustard.
Once you've collected all the ingredients, start boiling the egg, steaming the broccoli and beans, and cooking the tuna steak on a pan. Add all the cooked and remaining raw ingredients to a bowl and mix well. Depending on the availability, you can add/remove some vegetables from the list. Can diabetics eat tuna salad? This salad has a robust nutritional profile and, as shared below:

Nutritional Amount Per Serving
Calories 405
Fat 13.1 g
Sodium 586.1 mg
Iron 3.5 mg
Carbohydrates 18.4 g
Fiber 6.2 g
Sugar 8.4 g
Potassium 1250.3 mg
Calcium 135 mg  
Salmon Salad with Tahini Yogurt Dressing
A hearty, filling salad, the salmon salad with tahini yogurt dressing is all you need to fill your stomach and simultaneously pamper your taste buds. To make this salad, you would need lettuce, dried dill, kalamata olives, red wine vinegar, dried oregano, onion, cubed feta cheese, cherry tomatoes, cucumber, and olive oil. To make the perfect salad, grill the salmon and sprinkle a spice mix of granulated garlic, dried dill, dried oregano, and kosher salt. Once the salmon is grilled properly on both sides, take it off the grill and let it cool down.
Now, mix fat-free yogurt, kosher salt, dried dill, lemon juice, tahini, coriander, olive oil, ground cumin, and pepper to make a delicious salad dressing. You can then mix all the main salad ingredients mentioned above in the same bowl or choose to platter it differently. The dressing can either be mixed directly with the ingredients or served on the side. While adding everything to the bowl, cut the grilled salmon into bite-sized pieces. If you're wondering what exactly the nutritional value of this salad is, take a look below:

Nutritional Amount Per Serving
Calories 361
Fat 21 g
Fiber 3 g
Protein 33 g
Sugar 5 g
Carbohydrates 11 g
Cholesterol 74 mg
Chicken Bacon Avocado Salad
Ideal for people with diabetes, this salad is packed with powerful nutrients. If you want to proceed with this salad recipe, you would need thick bacon slices, fresh basil, chopped asparagus, butter, olive oil, lemon pepper seasoning, balsamic vinegar, ripe avocado, finely chopped spinach, and chicken breast slices. Start by frying the bacon and cooking the asparagus in butter, salt, and lemon pepper seasoning. Cook the asparagus as per your liking.
Finely cut the chicken into bite-size pieces, and layer it with spinach, asparagus, and bacon. Follow this by slicing avocados and placing them on top of the salad. The whole preparation can be enhanced with flavor by drizzling some olive oil, salt, pepper, basil, and balsamic vinegar over it. This salad also has excellent nutritional value. Check it out below:

Nutritional Amount Per Serving
Calories 391
Fat 30.6 g
Sugar 3.9 g
Protein 20.5 g
Carbohydrates 11.4 g
Fiber 4.6 g
Cholesterol 50.7 mg
Iron 3 mg
Vitamin C 15.2 mg 
No-Cook Black Bean Salad
If you're a working professional that doesn't get enough time to prepare healthy meals, this salad should be on your list. It is the easiest, protein-packed salad one can make, and it hardly takes a few minutes. You can make this no-cook salad with onion, tomato, black beans, olive oil, lemon juice, ripe avocado, cilantro leaves, minced garlic, corn kernels, and salt. After collecting the ingredients, place the onion in cold water for a few minutes while combining avocado, minced garlic, salt, cilantro, and lemon juice in a food processor. Make a creamy paste from these ingredients.
Drain and slice the onion you've placed in cold water, drizzle the creamy seasoning you prepared in the food processor, and add the remaining ingredients to have a lip-smacking salad. This salad is very nutritious and boasts the following nutritional profile:

Nutritional Amount Per Serving
Calories 322
Protein 10.6 g
Potassium 1238 mg
Fiber 12.9 g
Sugar 11.4 g
Iron 3.8 mg
Calcium 112.5 mg
Magnesium 78.9 mg
Fat 2.4 g  
Winter Green Salad Bowl
This one is ideally for you if you're a vegetarian looking for protein-packed salad recipes. This entire recipe is divided into two parts: one is the main salad, and the other is the dressing. For the main salad, you will need cauliflower florets, quinoa, chopped walnuts, salt, chopped kale, low-sodium vegetable broth, and cannellini beans. The second part of the recipe is the salad dressing that is made using fat-free yogurt, minced garlic, salt, lemon zest, water, apple cider vinegar, ground turmeric, ground pepper, and olive oil.
Start the recipe by steaming the cauliflower florets. Follow this step by adding quinoa, vegetable broth, and salt to a pan. Bring this entire concoction to a boil, reduce the heat, and cook for approximately 5 minutes. Now stir in kale, beans, and cauliflower, and cook well. Once done, drizzle the salad seasoning made using the ingredients mentioned above. You can also sprinkle some chopped walnuts for a better presentation. Besides being delicious, it is also very nutrition-packed. This salad has the following nutritional value:

Nutritional Amount Per Serving
Calories 381
Protein 18 g
Fiber 10 g
Fat 18 g
Calcium 162 mg
Iron 4 mg
Folate 164 mg
Sugar 8 g
Cholesterol 6 mg
Also read about how pomegranate is good for diabetes.
Bottomline
If you're diagnosed with diabetes, you must maintain strict calorie control in your diet. You will also have to ensure you don't eat too much sugary food. There is a common misconception that salads cannot be tasty. Since salads offer the right amount of nutrition but lack the taste, not many feel comfortable making the necessary switch. But with the recipes mentioned above, you can maintain a healthy lifestyle without letting go of the taste. These salad for diabetes India recipes have been curated especially for people like you, so do try them out.
FAQs
Does Eating Salad Raise Blood Sugar?
Most commonly used salad ingredients have a low glycemic index, meaning they don't cause unusual spikes in blood sugar levels. You don't have to worry about increased blood sugar levels if your salad has a high percentage of fruits and vegetables.
Is Green Salad Good for Diabetes?
Green salad made of vegetables like lettuce is very nutritional and ideal for people with diabetes. Several studies have shown that consumption of green salad helps people prevent the risk of type 2 diabetes. 
Is Cabbage Good for Diabetes?
Cabbage is low in starch and doesn't cause any increase in blood sugar levels. So you can easily include it in your salad recipes.
Disclaimer
This website's content is provided only for educational reasons and is not meant to be a replacement for professional medical advice. Due to individual differences, the reader should contact their physician to decide whether the material is applicable to their case.