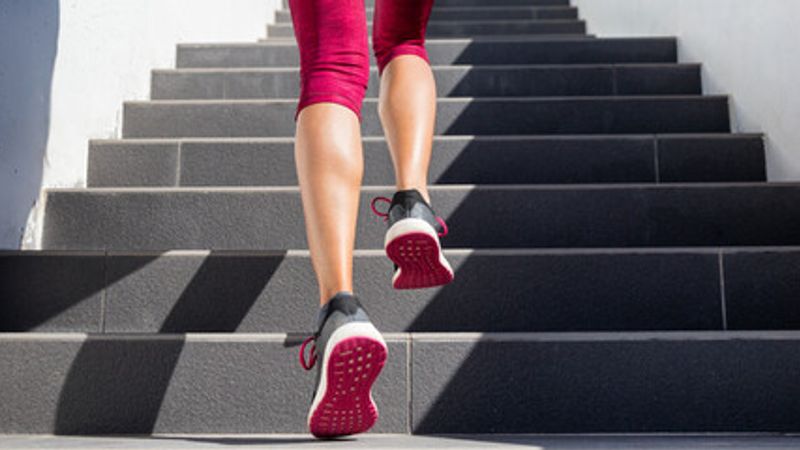 Fitness
Medically Reviewed
---
Our Review Process
Our articles undergo extensive medical review by board-certified practitioners to confirm that all factual inferences with respect to medical conditions, symptoms, treatments, and protocols are legitimate, canonical, and adhere to current guidelines and the latest discoveries. Read more.
Our Editorial Team
Dr. Apoorva T, MHM.
MEDICAL ADVISOR
Anti-Gravity Exercise For Diabetes
Across the world, people with diabetes may walk or jog for 45 minutes or practice yoga. They're all excellent. Sustaining a sedentary life without getting the appropriate daily exercise can reduce physical and psychological energy; induce cardiovascular problems and high blood pressure, and even shortened life expectancy. According to studies, over 80% of adults and teenagers are not physically active enough. 
Many individuals believe that because they are overworked and engage in a wide range of physical activities in their day-to-day existence, they do not require exercise or anti-gravity exercise for diabetes. The most common practical problem is that we are all under-exercising. We also lack sufficient knowledge about combining workouts most effectively. Also know about yoga asanas for diabetes with pictures.
What is Anti-gravity Exercise?
Anti-gravity is a high-intensity aerobic and anaerobic workout that utilises a variety of muscle fibres. As per a new study, you don't need to engage in strenuous exercise to enhance your stamina and well-being. The moderate-intensity activity appears more effective than strenuous exercise in obese and overweight persons and those with pre-diabetes. 
The notion of an anti-gravity workout will be introduced to you in the following text, and it is best suited as an anti-gravity exercise for diabetes. The most essential point to mention in the event of a reversal of diabetes is to get the sugars down pretty quickly. The better control you have over sugar levels, the tighter tracking you'll have over insulin. The better insulin control, the more inflammation, fats and water balance will be achieved. 
Performing anti-gravity exercises is critical since the longer your blood sugars stand around 180, the more likely you are to incur complications of the condition. In the adjustment phase, it's crucial to go up and down the stairs three times a day, including five to ten minutes each time. Moreover, it is advised to regulate the body in proper functioning and release insulin with anti-gravity exercise for diabetes.
Options for doing Anti-gravity Exercises
1. Climbing the Stairs
The simplest, most well-known, and most practical anti-gravity exercise for diabetes is stair climbing. If you are having knee pain or high BP problems, so as a healthy alternative, regular exercise has regularly been demonstrated in studies to help regulate and maintain blood sugar levels over time. Stair climbing, in particular, is an anti-gravity workout that is very good for Type 2 diabetes patients.
2. Dump of Nitric Oxide
Nitric oxide dump is an option for those suffering from knee pain. Squats, alternating arm raises, non-jumping jacks, and shoulder presses are all part of this strong routine.
3. Yoga in Anti-gravity
Anti-gravity yoga sessions require the participant to exercise against gravity. It is the best anti-gravity exercise for diabetes. This activates the body and helps you change into different postures while maintaining balance. Yoga practice regularly can help decrease stress, and normal blood pressure, increase mobility and improve general well-being.
4. Anti-Gravity Workout Machines
This anti-gravity treadmill is a novel and one-of-a-kind equipment that combines multiple cutting-edge technologies into a single device. The anti-gravity treadmills will assist you in destroying fat cells and converting them to energy. They will assist you in losing weight and shaping your physique.
5. Techniques and Instruments for Inversion
Inversion therapy is a procedure used to relieve back discomfort, expand the spine, and improve circulation. This exercise is not for everyone. Before attempting to utilise an inversion table to ease back pain, first should contact a certified physical- therapist to see if this treatment is right for you. 
Other Benefits of Anti-Gravity Exercises
Anti-gravity exercises aid in the improvement of immunological function and cardiac output. Furthermore, they improve cardiorespiratory fitness, insulin resistance, and cholesterol levels while improving endothelial function in those with type 1 diabetes. 
For those with Type 2 diabetes, the exercises lower blood sugar, HbA1c, lipids, and insulin resistance. They also enhance muscular strength and aid in the reduction of body weight. 
Bottomline
The anti-gravity exercises mentioned above can prove beneficial for people with diabetes. But the essential thing is to avoid developing such uneven sufferings. There is a need to take the necessary measures, as well as to eat properly and live a balanced life and consume the correct intake of all important nutrients such as minerals, vitamins, and carbohydrates. This will help you to build up strength in an efficient manner. Also, Fibre-rich foods can result in weight loss and lower your chance of developing diabetes.
Anti-gravity workouts, in addition to helping to maintain blood sugar levels, can also aid to boost the immune system. Finally, strengthening the body's muscular composition can prevent obesity and specifically aid patients with Type 2 diabetes regulate blood sugar over time, similar to the effects of High-Intensity Interval Activity (HIIT). Also know about reversing type 2 diabetes.

References
https://www.onlymyhealth.com/know-the-importance-of-anti-gravity-exercise-for-diabetics-1573718124
Disclaimer
This website's content is provided only for educational reasons and is not meant to be a replacement for professional medical advice. Due to individual differences, the reader should contact their physician to decide whether the material is applicable to their case.