Years of research supported by ongoing clinical studies
Clinical outcomes
Clinical research assessing the impact of Sugarfit's Diabetes Reversal and Management Program (SDRMP), with personalized coaching and physician guidance, reveals that patients can safely enhance health outcomes linked to type 2 diabetes.
Peer-Reviewed journals
In the domain of peer-reviewed journals, meticulous research on Sugarfit's Diabetes Reversal and Management Program (SDRMP) has unveiled promising findings. This research demonstrates that patients can safely and effectively improve critical health markers linked to type 2 diabetes. These markers include HbA1c levels, weight management, fasting blood sugar (FBS) levels, as well as the management of dyslipidemia, hypertension, and inflammation. Such evidence underscores the program's potential to make a substantial impact on the lives of individuals facing the challenges of type 2 diabetes, offering hope and practical solutions through scientifically validated methods.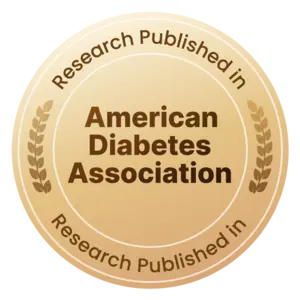 American Diabetes Associations
82nd Scientific Sessions: Oral presentation at New Orleans, June 2022
Reduction of HbA1c in Adults with Type 2 Diabetes through Sugarfit's Diabetes Reversal Program Using a Coach-Led, Technology-Enabled, and Habit-Based Approach: A Retrospective Analysis. This study aimed to compare the changes in vital variables pertaining to type 2 diabetes (T2D) using Sugarfit's Diabetes Reversal Program (SDRP) and a group with NO personal coach assistance.
BMC Endocrine Disorders
A personalized multi-interventional approach focusing on customized nutrition, progressive fitness, and lifestyle modification resulted in the reduction of HbA1c, fasting blood sugar and weight in type 2 diabetes: a retrospective study
This study aimed to evaluate the effectiveness of a comprehensive and multi-interventional diabetes care program-Sugar. Fit Diabetes Reversal Programme (SDRP) on glycosylated haemoglobin (HbA1c), fasting blood sugar (FBS), and body weight for type 2 diabetes reversal.

Journal of Diabetes Research Review and Reports
Case Study Presenting Remarkable Improvements of all Parameters in a Long-Term T2DM Patient with Multiple Chronic Comorbidities by Sugar fit's -Tech/Ai-Driven Platform with Daily Personalised Life Coaching and Expert Medical Advice
The objectives of the study were to identify the critical issues of the user to deliver appropriate, personalized, and effective clinical treatment along with empathetic coaching, Prove the efficacy of an end-to-end program for a sustainable reversal that leads to beta cell recuperation, metabolic recovery and reduction of endorgan complications from diabetes.

International Journal of Diabetes Technology
Sugar.Fit's Artificial Intelligence Integrated Approach as A Holistic Type 2 Diabetes Reversal Model
This study highlights use of multifaceted holistic interventions, personalized for each participant and delivered by diabetes expert coaches through AI based electronic medical records for over 90 days and aims to study this integrated system's effectiveness in reducing glycemic levels.